Site Mix Concrete Delivery Truck
Our Site-Mix trucks have the ability to produce up to ten cubic yards of concrete per load.
The trucks contain a number of bins for materials.  There is a bin for the gray powder cement, one of sand and gravel and finally one for water.  There is an auger that mixes all the material as it comes out of the truck to make concrete.  It is the freshest mix possible.  When you have had enough concrete, the truck stops mixing more and the remaining sand, gravel, cement and water just stay in their separate bins on the truck. If possible and to provide the best service, we try to have more material on the truck than you order just in case you need more than you order.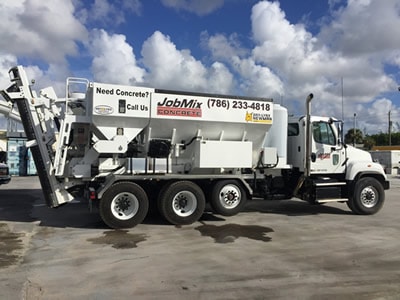 Call now: 786-233-4818
People like the following things about concrete delivery using this method.
The concrete is fresh mixed on site, not having spent an hour spinning in a drum truck.

Because the concrete is made as you need it, this is ideal for pours that require more time

The truck stops making concrete when you have enough to complete your job